The Association of Woodworking & Furnishing Suppliers (AWFS) show is coming up this July 20-23rd at the Las Vegas Convention Center. A once every other year event, this show is a great snapshot of what is going on in the lumber industry, and it's our biggest opportunity to share ideas and advice from woodworking pros on the West Coast. After last year's minimal face to face interactions, Peterman Lumber is excited to reconnect with industry professionals and see innovations in cabinetry machinery and surface materials!
Peterman Lumber will be at Booth 3413 debuting our exciting new line of Bussolotti RTA cabinets and all our favorite decorative surfaces.
After you come visit us at Booth 3413 and see our newest selection of traditional to modern cabinetry materials, we invite you to walk through booths of some of our favorite brands like:
Northwest Hardwoods 3313
Timber Products 3455
Veneer Technologies 3322
Roseburg 3611
Salt International 4109
Surf Prep Sanding 2847
Franklin International/Tightbond 3216
Century Components 4354
Salice 3701
Knape & Vogt 3301
Pride Industrial 3450
For full list of Exhibitors, click here.
This has been an impactful year, and it will be interesting to hear how the effects of COVID-19 have and will continue to impact lumber shortages and the way we build our cabinets.
We would personally like to invite you to walk the show for free by sharing our Exhibitor Invitation Code PET377.
Registration is normally $30 – so even if you are unsure if you will make it – please take time to sign up to save $30 at the gate in case you change your mind. Share with friends by referring them to the link in the bottom right corner of our website.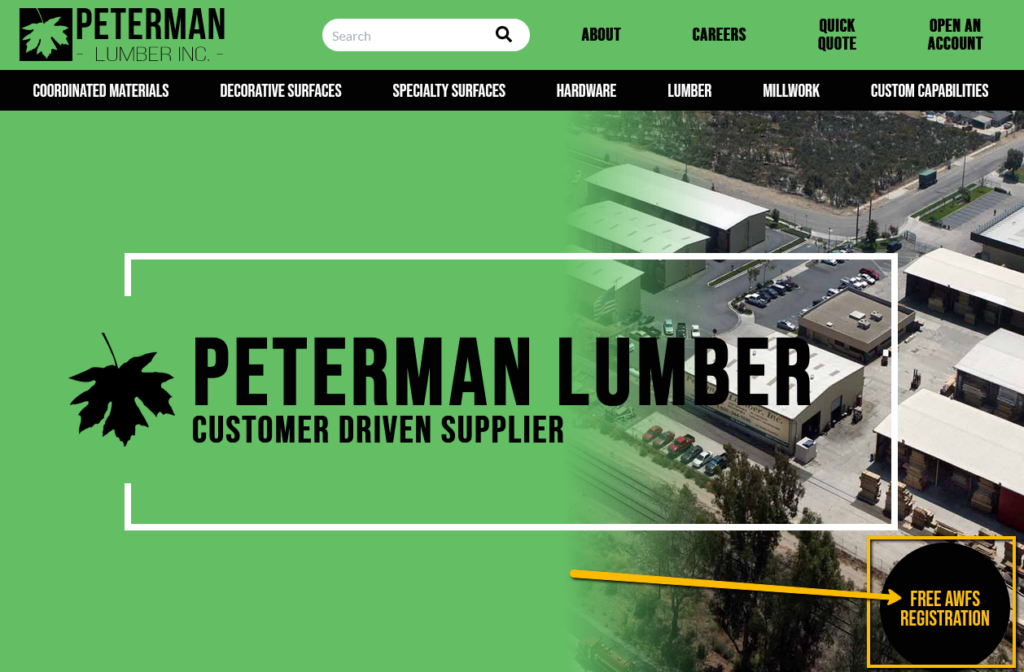 Keep an Eye Out for Our Giveaway!
We at Peterman Lumber are so excited for the show we will set one lucky customer up with a free 2-night hotel stay at the Palazzo on the Las Vegas Strip and free registration to the AWFS tradeshow with our ALL WORK – ALL PLAY Giveaway! You can take your time to walk the show for 2 or 3 days, chat with woodworking professionals, and have a chance to see all there is to see. We will also be throwing in some Peterman Lumber swag so you can walk the show in style with a Peterman T-shirt & Hat.
We will be sending out a separate invite with more details on this giveaway in the next week or two, so keep an eye out!
Have further questions about the AWFS show or our ALL WORK – ALL PLAY Giveaway? Then contact your Peterman Lumber Sales Rep or send us an email at info@petermanlumber.com!